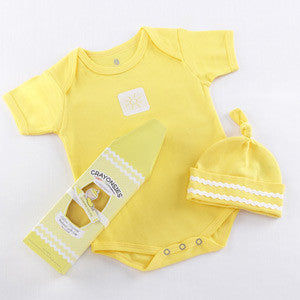 Baby Aspen Crayonsies 2 piece Yellow Baby Gift Set
Regular price $14.99 Sale
Baby Aspen Crayonsies 2 piece Yellow Baby Gift Set
Baby Aspen designers have created a color trend-setting, two-piece delight in a yellow so bright, you'll need to wear shades! That's why we call it "sunshine yellow!" The new mom and dad will call it the most clever baby gift ever!
Color rich set includes bodysuit and cap, white applique, 3 snap closure for easy access
Made of machine washable 100 % cotton
Gift box measures 10.25"h x 2.75"w x 1.75"