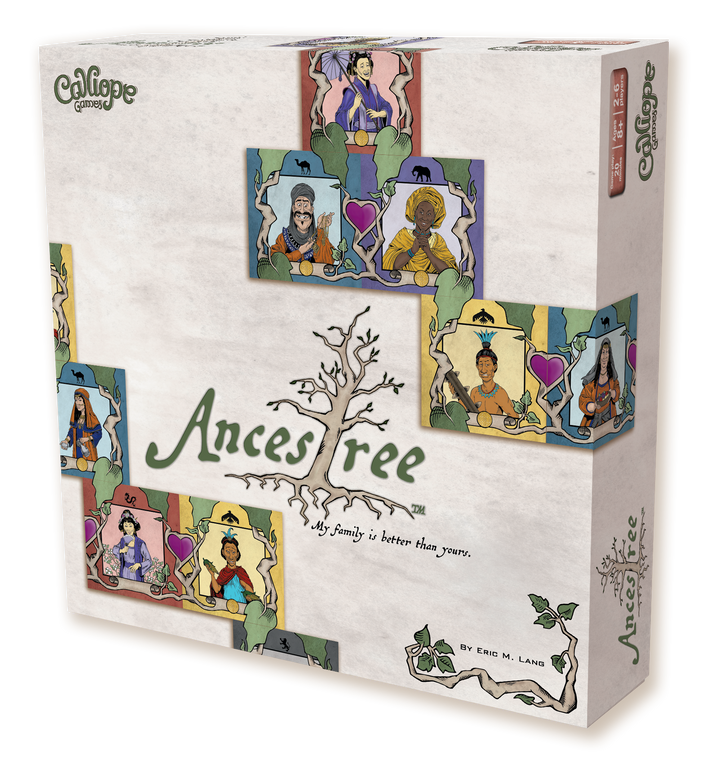 Calliope Games - Ancestree - An Elegant Tile Drafting Family Game
Regular price $39.99 Sale
DO YOU HAVE ROYAL BLOOD? Prove your lineage is the greatest of all! Reveal wealth, power and the occasional black sheep of the family. How do your ancestors stack up through the generations?

QUICK AND EASY: Choosing & passing Ancestor tiles is a breeze, and building your family tree is as simple as connecting leaves and hearts. Intuitive play, three paths to victory, and enjoyable by all!

PATHS TO VICTORY: Choose Ancestor tiles that will gain you points for generations, wealth, and marriages. Watch your family tree grow! At the end, the player who balances these three best will win!

BEAUTIFUL ART AND DESIGN CREATE THE DRAMA AND FUN: Eye-catching art and design by renowned artists Larry Elmore and Adelheid Zimmerman bring the various cultures and characters to vibrant life.

WHO CAN PLAY: 2-6 players ages 8+. Designer Eric M. Lang is well-known to serious gamers, who can use Ancestree a gateway game to introduce the drafting mechanism to newcomers in a satisfying way.