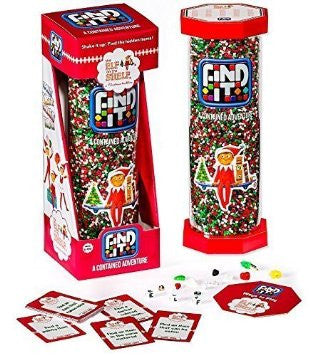 Elf on a Shelf Find It Game
Regular price $29.99 Sale
Elf on a Shelf Find It Game
For years, the Find It® Game has entertained kids of all ages as a "contained adventure" – a portable scavenger hunt with so many ways to play.  At the same time, the beloved "Elf on the Shelf®" has become a household name and a strong Christmas tradition.  Children all over wake every morning to find the Elf's latest hiding place and see what the mischievous little fellow has gotten into!
The new "Elf on the Shelf® " version of the Find It® game.  In this wonderful new edition, find the elusive Elf, as well as 39 more Christmas themed goodies.  From ornaments and snowflakes, stockings to jingle bells, and even a miniature chocolate chip cookie, the items inside are sure to delight fans of Find It® and Elf on the Shelf®.   Enclosed playing cards add different ways to play.
This collectible version is sure to become part of the Christmas tradition and be played throughout the holiday each year. Ages 6-106, limited quantities available.
Shake it up. Find the hidden Christmas items. So many ways to play. Hours of fun!