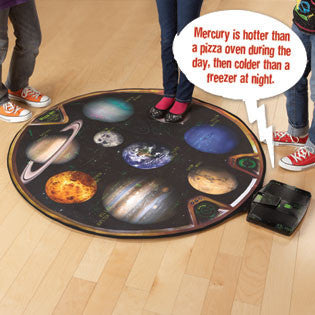 Geosafari Talking Planetary Mat
Regular price $59.99 Sale
Description:
Did you ever wonder how much you would weigh on the moon? Jupiter? Mars? Step onto the Talking Planetary Mat and find out! A completely interactive way to demonstrate the changing forces of gravity on the different planets, this mat features all eight planets and the moon, as well as fun, recorded facts to help kids understand gravity, weight, mass, and basic astronomy.
Grade Level:
Grade 3
Included:
Galactic planet scale printed with 9 celestial bodies.Calculates child's weight on all 8 planets and the moon in both pounds and kilos (weights are displayed not spoken). 
Scale registers up to 300 lbs.
Two modes of play fact and game
Measures 42" around plus 8.5" x 11" scale.
Concepts:
Introduces the concepts of gravity, mass, and weight.
Reinforces planetary knowledge unit will provide more than 40 fun facts (but also includes a volume control).