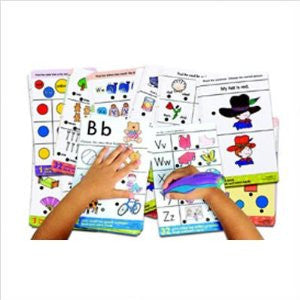 Hot Dots Phonics Fun
Regular price $39.99 Sale
Description:
These self-checking electronic activity sets teach basic skills in a fun, effective learning format.
The Hot Dots Power Pen registers answers on the hot and cold dots on any of the illustrated lesson cards.
Each set includes Hot Dots Power Pen and 80 colorful, two-sided cards all packed in a durable travel-easy case
160 lessons per set.
Phonics Fun Lesson cards feature beginning skills that prepare children for reading, including the sound alphabet, long and short vowels, digraphs and blends, and more.