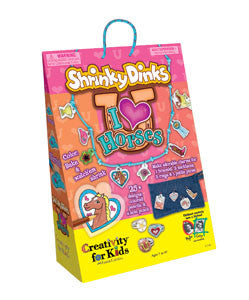 Shrinky Dinks I love Horses
Regular price $16.50 Sale
Shrinky Dinks I love Horses
Description:
 
Make an array of horse themed Shrinky Dinks jewelry and accessories. The perfect craft for pony pals and horse lovers.
 
Contents:
Set includes 5 sheets of preprinted Shrinky Dinks film, 8 colored pencils, hole punch, jewelry accessories and a denim wristlet change purse.
 
Age Range:
7 years and up
Warning: Choking Hazard- Small Parts, not for children under 3 years of age, Adult Supervision is required when baking.