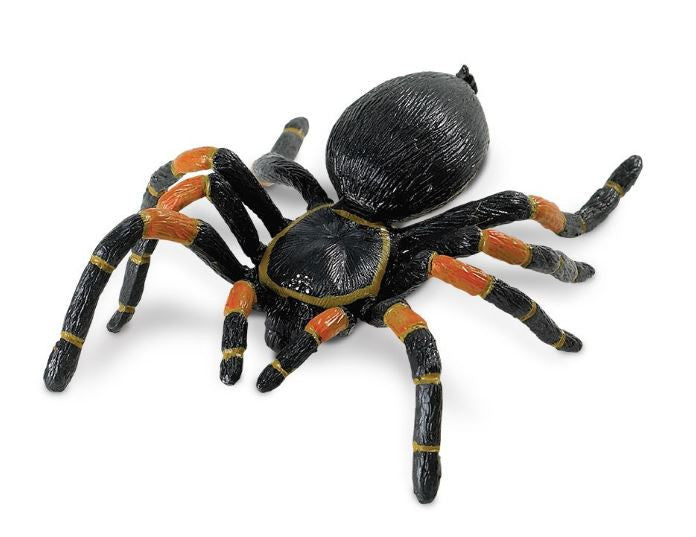 Safari Ltd. Orange-Kneed Tarantula Figurine
Regular price $10.99 Sale
Safari Ltd. Orange-Kneed Tarantula Figurine
LARGE CREEPY CRAWLY - Like many insects, crustaceans, and other arachnids, tarantulas are arthropods, meaning they shed their old skin in order to grow. They can regrow lost limbs through this process and are known to not eat for weeks before and after molting. While they are feared for their size and painful bite, they are only slightly venomous to humans and are considered extremely docile. Orange-Kneed Tarantulas originate in Mexico, are large even by tarantula standards, and are popular among enthusiasts.

PART OF THE HIDDEN KINGDOM COLLECTION - Explore a realm few ever get to see up close, where everything creeps, crawls, or flies! Our Orange-Kneed Tarantula is part of the Hidden Kingdom Collection, which includes oversized replicas for closer inspections, especially useful for inquisitive young eyes.

MADE WITH INDUSTRY-LEADING STANDARDS - Like all Safari Ltd products, the Safari Ltd Hidden Kingdom Orange-Kneed Tarantula has been individually hand painted, features quality construction from safe, phthalate and lead-free materials, and includes an educational hangtag in 5 languages.

REALISTIC APPEARANCE FOR MULTIPLE USES - Don't say we didn't warn you! The Safari Ltd Hidden Kingdom Orange-Kneed Tarantula is freakishly large, just like the real thing. Life-like, educational, and fun, this figurine is suitable for a range of interests, including collectors, enthusiasts, teachers, and kids.

PRODUCT SPECIFICATIONS - Measures 7.7"L x 6.3"W x 1.6"H. For ages 3 and up.