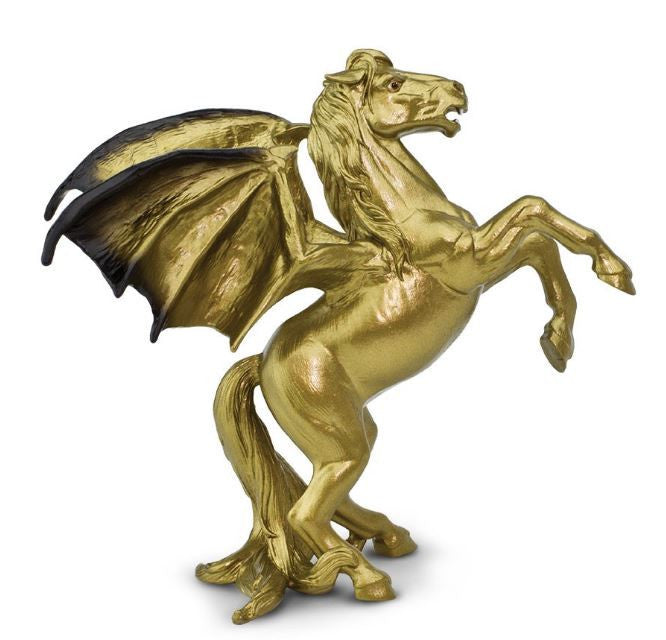 Safari Ltd Gold Areion
Regular price $11.99 Sale
GOLDEN WINGED HORSE – Born of the Greek gods Demeter and Poseidon, Areion is not only immortal but one of the fastest creatures in the mythical world. While some myths described Areion as having a coal-black coat, Roman poet Statius, in his epic Thebaid, mentions Areion's golden color.

PART OF THE MYTHICAL REALMS COLLECTION – The Safari Ltd Gold Areion is part of the Mythical Realms Collection, which showcases creatures and deities from Greek mythology. With exceptional detail and intricate sculpting, these figurines are ready to bring you into the world of the Greek gods.

MADE WITH INDUSTRY-LEADING STANDARDS – Like all Safari Ltd products, the Safari Ltd Mythical Realms Gold Areion has been individually hand painted, features quality construction from safe, phthalate and lead-free materials, and includes an educational hangtag in 5 languages.

REALISTIC APPEARANCE FOR MULTIPLE USES – Realistic, educational, and fun, this figurine is suitable for a range of interests, from collectors and enthusiasts to teachers and kids. Admire it on a shelf, use it in the classroom, or simply enjoy playing with it.

PRODUCT SPECIFICATIONS – Measures 5.7"L x 4.7"W x 4.5"H. For ages 3 and up.