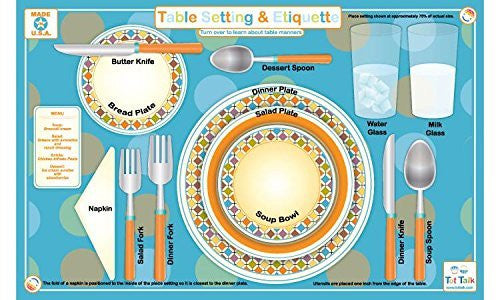 Table Setting & Etiquette Placemat
Regular price $11.99 Sale
Learn how to set the table properly and review and practice good table manners (see back side). Be noticed for having GOOD manners at the table! 
MADE IN USA
Safety-Approved  
Award-Winning
Anti-bacterial - Wash with dish soap; placemats dry quickly. 
Use dry erase or washable markers.  Kids can also wipe clean with paper towel or eraser.  A spray bottle is fun too!  
Used in homes, schools and on the go, traveling or in a restaurant.
Age Recommendation:  2 - 6
Lightweight and durable.  
Dimensions:  17.5" x 11.5"