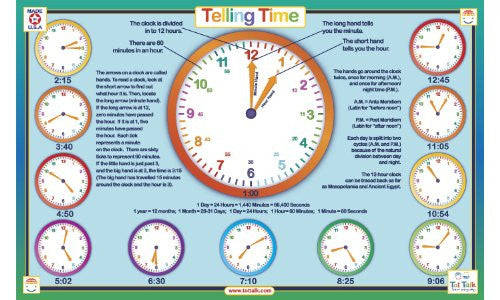 Telling Time Placemat
Regular price $11.99 Sale
The Telling Time placemat provides an illustrated explanation of how to understand and begin to read analog clocks. On the back side, one can practice reading times that parents or older siblings can draw. Erase and try again. This placemat also provides general information about clocks and includes information about the United States time zones and Daylight Saving Time. 
MADE IN USA
Safety-Approved  
Award-Winning
Anti-bacterial - Wash with dish soap; placemats dry quickly. 
Use dry erase or washable markers.  Kids can also wipe clean with paper towel or eraser.  A spray bottle is fun too!  
Used in homes, schools and on the go, traveling or in a restaurant.
Age Recommendation:  2 - 6
Lightweight and durable.  
Dimensions:  17.5" x 11.5"