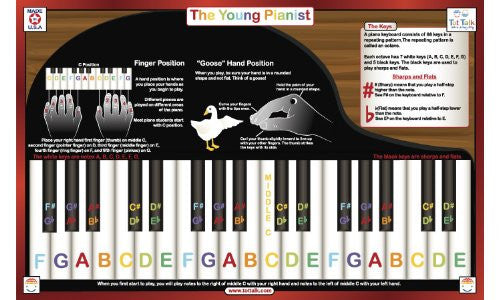 Young Pianist Placemat
Regular price $11.99 Sale
Description
Children are playing the piano at younger and younger ages. This "Steinway & Sons" look alike Tot Talk placemat keyboard will allow children to learn piano notes and practice playing at the table! Children can visualize the notes on the keyboard and learn more about music theory and note reading on the back side for bass and treble clefs. Tot Talk's "Made in USA" double sided, educational placemats are thick and high quality. Use washable markers, and wipe clean with wet paper towels, or wash with warm water and dish soap for bacteria free learning. For extra fun, give your child a spray bottle, and they can spray it, and wash off their work and start over.
MADE IN USA
Safety-Approved  
Award-Winning
Anti-bacterial - Wash with dish soap; placemats dry quickly. 
Use dry erase or washable markers.  Kids can also wipe clean with paper towel or eraser.  A spray bottle is fun too!  
Used in homes, schools and on the go, traveling or in a restaurant.
Age Recommendation:  2 - 6
Lightweight and durable.  
Dimensions:  17.5" x 11.5"